Helping Hand scheme
Recite Me: accessibility and language support is at the top right of the page.
Helping Hand is an award winning scheme empowering bus users to discreetly and directly advise of any assistance they may require. The card can be particularly helpful for customers with non-visible disabilities.
The yellow card holds a brief written instruction for the driver that can be shown upon boarding the bus. The driver is immediately made aware of the customer's needs or requirements without the customer having to verbally communicate it.
For more information, our customer service team are happy to help. Contact information, including opening times, can be found here.
Face covering - exemption support card
With the implementation of mandatory face coverings to be worn on public transport we currently have a backlog of Helping Hand applications to help those who are exempt and cannot wear a face covering.
We are working through them as quickly as possible but if you would prefer not to wait we have uploaded a PDF that includes the message :
'Please be supportive. I'm exempt from wearing a face covering.'
and you can print your own. You can also download the file to your phone, or screen shot it and show it to the driver when you board the bus.
You can still apply for a Helping Hand card but it may take longer to arrive.
Download your own Helping Hand face covering exemption card here.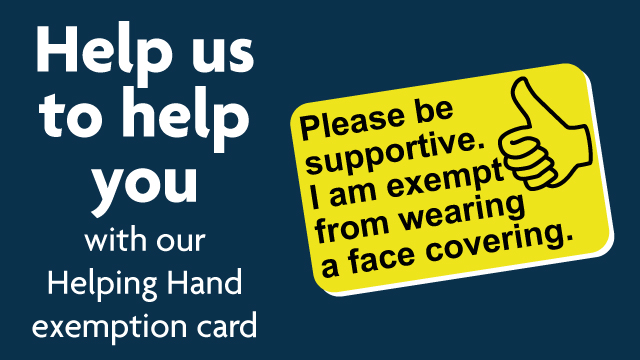 or apply for a Helping Hand Exemption card to be made for you here
The service user led scheme is now being used off the bus as well as - in taxis, shops and leisure establishments like the cinema.
For example, "Please face me I lip read" can help anywhere at any time.
Read Becky and Graham's story, who are both Helping Hand card users.
Some examples:of other cards available
| | |
| --- | --- |
| | For the customer that may need time to find a seat in priority seating before the driver pulls away. This is very helpful for customers with non-visible disabilities. |
| | This card is helpful for customers who have extra special requirements such as a pushchair with oxygen or other medical equipment being carried. |
| | For passengers who may wish to discreetly advise a staff member of a medical condition; helping to make them feel more confident when travelling. |
| | This card is particularly helpful for customers with non-visible disabilities. This has helped to advise the driver, although some customers have also advised fellow travellers by using the card. |
| | The reverse of the card can display, if required, the customer's name and emergency contact number. This is optional, but it can offer assurance and instil confidence, that if needed, someone they know can be called upon for help. This is especially relevant for customers living with epilepsy, Alzheimer's or dementia. |
We provide further examples on our application form (which can be posted to you), although we will discuss with you personally your requirements, and create bespoke designs on request.
How to apply for a Helping Hand card
Applying is easy either:
Organisations that helped us create Helping Hand
Helping Hand was designed by those people who use the services provided by the charities listed below. We spoke to them directly. They influenced the final colour, overall design and - of course - the wording on the cards.
We owe a great debt of gratitude to the following organisations - without whom the award-winning Helping Hand would not exist.
Grace Eyre
Action on Hearing Loss
Guide Dogs (Brighton & Maidstone)
guidedogs.org.uk/how-you-can-help/campaigning/talking-buses
Possability People
Also a very special mention to Matthew Battams who joined us for work experience in 2015 and 2016 and now works with us part-time. Matthew, who has autism, had the inspired idea to add the emergency number section.
The Helping Hand scheme is a Go-Ahead Group initiative and within the Brighton & Hove and Metrobus area the below organisations are also involved in the scheme:
Streamline Taxis
City Cabs Brighton
Dementia Friendly Crawley
East Sussex County Council
Southdown
The Big Lemon
Compass Bus
Stagecoach
Brighton & Hove City Council
Surrey County Council
West Sussex County Council