Santa Bus 20th Anniversary!
1 month ago Wed 1st Nov 2023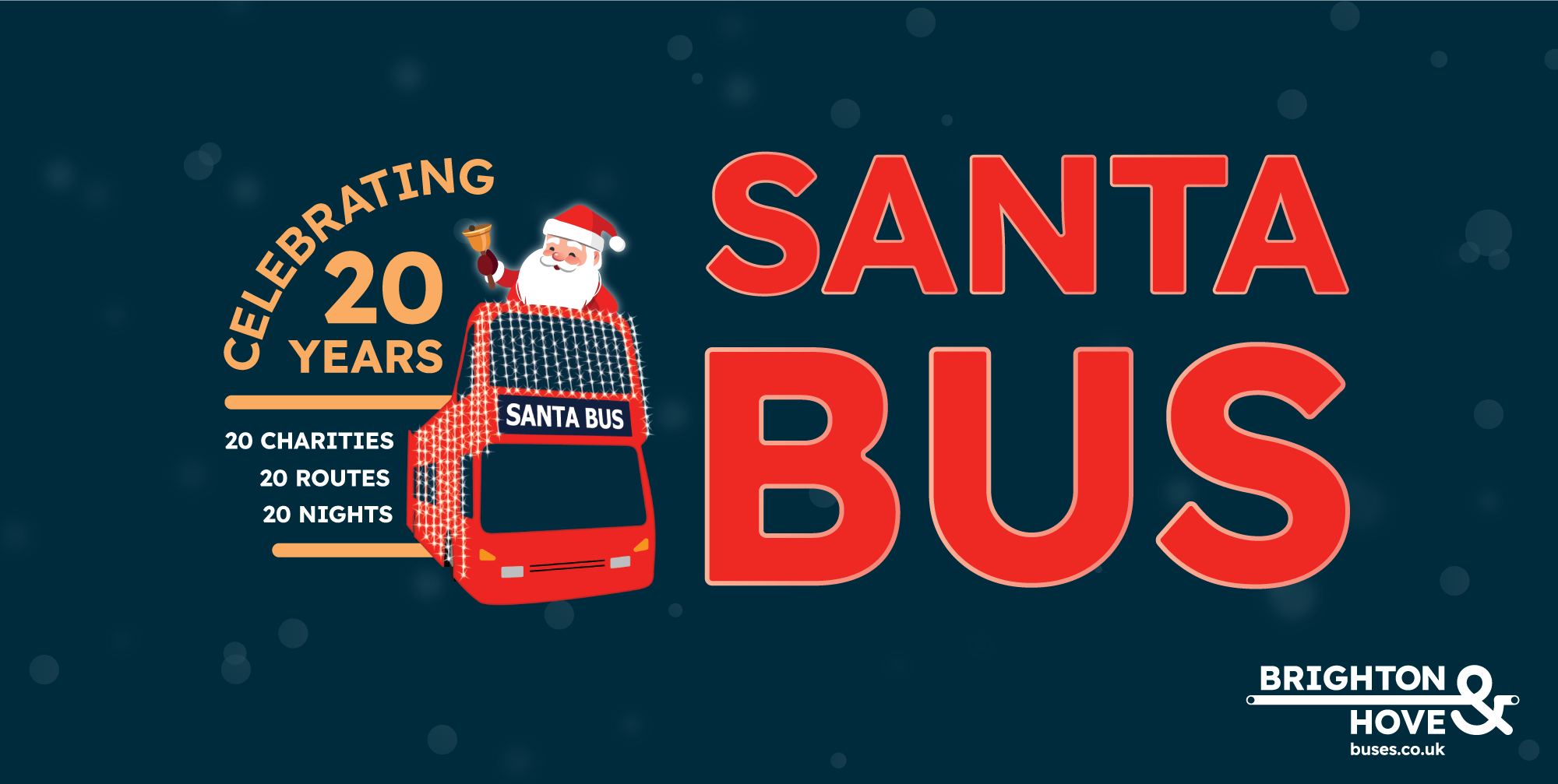 Brighton & Hove Buses' Santa Bus is once again returning to the city for its 20th anniversary.
To help celebrate 20 years of Christmas giving, this year's Santa Bus will travel across 20 routes, over 20 separate nights, whilst raising money for 20 local charities.
The 20 chosen charities for this year are: Martlets, Chestnut Tree House, Motor Neurone Disease Association, Switchboard, Sussex Homeless Support, Impact Initiatives, Grace Eyre, Choir With No Name, Take Shelter, Raystede Centre for Animal Welfare, Racial Harassment Forum, The Hummingbird Project, Fareshare Sussex, ABC Fund, Trust for Developing Communities, Chomp, Rise, Team Domenica, Rainbow Fund and Moulsecoomb Forest Garden.
To date, The Santa Bus has raised over £380,000 and shows no signs of stopping! This year's donations will once again be collected by Santa's helpers as the bus passes by, via local supporting organisations and businesses, as well as online via Go Fund me.
To help support this year's fundraising, we are once again calling upon local organisations and businesses to sign up as Santa Bus collections points in support of the 20 chosen charities. It's quick and easy to become a Santa Bus collection point. Every participating organisation will receive a collection bucket and poster and appear on the bus company's website attached to the Santa Bus location map. To find out more, including a list of routes the Santa Bus covers and how to sign up, visit: www.buses.co.uk/santabus
Managing director, Ed Wills says: "We are absolutely delighted that the Santa Bus is celebrating its 20th anniversary. It is testament to how popular it has become. Not everyone has access to their local grotto, and this is why the Santa Bus has become an annual institution providing a free way to see Santa Claus and spreading joy and festive cheer across the entire city.
And let's not forget how it also raises money for multiple local charities, only made possible with the generosity of everyone who volunteers and donates, as well as the support of local organisations and businesses. We owe a huge thank you to our customers and local communities for all their help and support."
Claire Kidd, Head of Fundraising at Martlets said "We are reminded every day that life is precious, and we understand how important it is to make memories that matter with those we care about. The Santa Bus is one of these special, magical moments and Martlets is proud to have been part of this from the very beginning and excited to still be partnering, 20 years on, with Brighton & Hove buses and of course the one and only Santa Claus, for the 20th anniversary."
Santa Claus also added : "Ho-Ho-Here we come on board my wonderful Brighton & Hove Santa Bus which is one of my favourite ways to travel (Rudolf can tell you what my other favourite way is).
What a delight it is to be back for our 20th anniversary tour of Brighton & Hove. Make sure you give me and my elves a festive wave when we pass you by."
Brighton & Hove Buses' open-topped Santa Bus covers areas across the city and beyond in the lead up to Christmas. The bus is decorated with 10,000 lights and plays festive music while Santa waves from the top deck.
The Santa Bus has raised over £380,000 for local charities and organisations since it began in 2003.